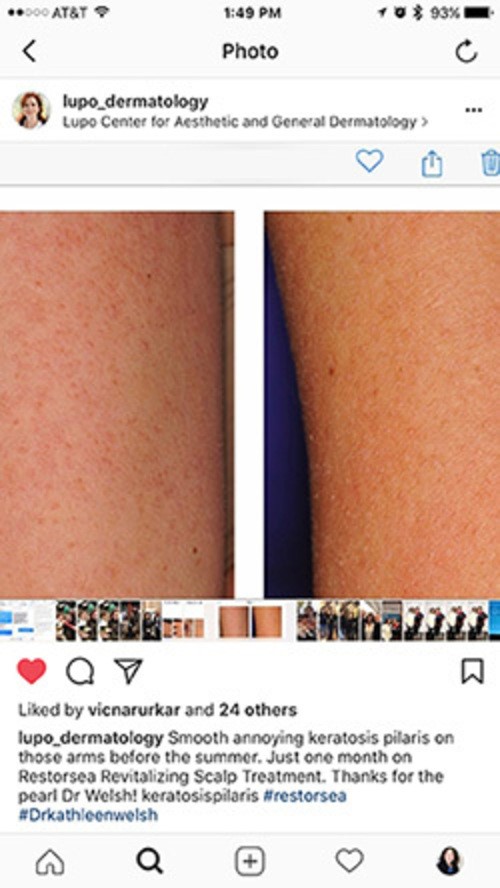 Summer means sleeveless tops and shorts. However, for some people, it means dealing with "bumpy chicken skin."
Keratosis pilaris is the name for this annoying skincare issue, which is classified by tiny, hard red bumps, dryness and occasional itchiness. And the good news is that it's completely harmless.
Keratosis pilaris is a common skin irritation that forms when there's a buildup of a protein called keratin, which typically protects the skin from infection. Excess keratin can plug up the opening of the hair follicle and cause rough patches to form.
The condition can develop on a person's arms, legs and even buttocks. And unfortunately, there is no cure for this skin condition. However, below are some ways to help minimize this condition:
1. Wash your skin gently; avoid scrubbing.
2. Avoid highly fragranced products.
3. After bathing/showering, gently pat your skin dry instead of rubbing vigorously.
4. You may want to try the PRO Revitalizing Scalp Treatment. PRO MD accounts have found that spraying this product on affected areas greatly reduces the appearance of Keratois Pilaris. The photo above was posted on Instagram by Dr. May Lupo of Lupo Center for Aesthetic & General Dermatology. For a complete list of physicians carrying the PRO line, please visit: www.restorsea.com/physicianlocator/ and enter your zip code to find the office closest to you.
XOX,