DRINKING YOUR VEGGIES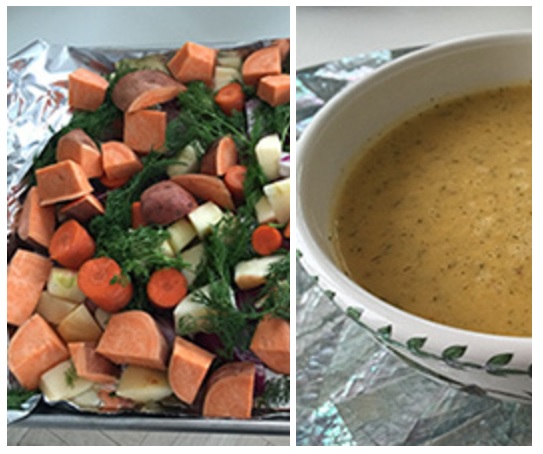 Last summer, I started eating a plant-based diet. Eating a plant-based diet helped reduce inflammation in my body, which was constantly stressed from flying 30,000 miles A MONTH. And, as an added bonus, I lost 25 pounds (alas, I still have about 20 more pounds to lose…).
However, now that winter has finally emerged, it has become very difficult to drink cold smoothies. According to Kristin Herlocker MS, RD, a nutrition expert with Diabetes Centers of America in Houston, "when outdoor temperatures drop, your body temperature drops, and that's what sets up the longing for foods that will warm you quickly."
As a result, I developed a soup recipe that is easy, delicious, low calorie (because it is anchored by water), and filling. I make a big batch, freeze it in smaller containers, and defrost and eat it when I come home to see my cats and bird for one night and switch suitcases.
I invite you to make it yourself and email me with your feedback at pattipao@restorsea.com.
XOX,

Patti's Soup
2 carrots, peeled and chopped into small circles
4 shallots, peeled and quartered
1 red onion, peeled and quartered
2 yams, cut into 1" pieces
2 yellow squash, de-seeded and cut into 1" pieces
2 honey crisp apples, peeled, cored and cut into 1" pieces
1 small bunch of fresh dill
Olive oil (to taste)
Salt and pepper (to taste)
Pre-heat oven to 350 degrees
Line deep baking sheet with aluminum foil
Arrange ingredients on baking sheet
Drizzle liberally with olive oil (at least ½ cup)
Season with salt and pepper
Bake for 55 minutes
Blend 2 cups of the cooked vegetables with 2 cups of water. Continue until all cooked vegetables are blended. Pour into individual freezer containers and freeze.